Perfectly describes my feelings this week. Yay! We did it! Our project is complete.

I really appreciated the peer review process we went through. I found it interesting when looking at the posts on the discussion threa. d that there was a common sentiment among many of us that "I am out of ideas, tweaks, fixes, etc." I felt the same way! I wordsmithed our project site for two straight days and still felt it could be better

I think when working so intensely on a project of this scale it is easy to miss an obvious mistake or omission. You have the vision, you know what you are imagining it looks like in practice, the challenge is creating a resource that is comprehensive enough to allow others to implement it who were not part of the creative process.

I have looked at several projects in progress over the last 9 weeks, but I have to say that the final products blew me away. I find myself wanting to be an 8th grade ELA teacher or a 10th grade science teacher just so I could have a chance to implement some of these amazing projects!

Powered by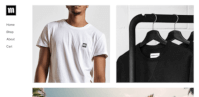 Create your own unique website with customizable templates.